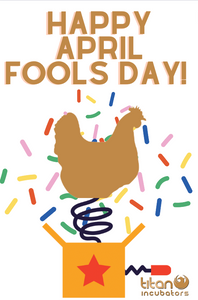 APRIL FOOLS DAY!
March is now over and April is here! To celebrate April fools day we thought it would be nice to reflect on some chicken and egg pranks that have happened over the years! Hopefully you avoid any pranks today!
1. Square shaped Eggs!
In 2014, ITV 'reported' that a farm in Suffolk called 'Freedom Food Farm' had reared chickens which laid square eggs! ITV commented: "While the shape makes it convenient for eating, it also means making egg sarnies has become even simpler." We can't decide if we would prefer square eggs or not!
2. Rugby Ball shaped Eggs!
In 2016, the German diplomatic mission in London announce the German government's plans to make rugby their national sport in hopes that it would lead them to winning the Seven Nations. As a part of their plan they wanted hens to lay rugby ball eggs! 
3. "Egg and Chips" Prank!
Reddit user posted online a picture of "egg and chips" which they had served their children as a prank! The children thought they were tucking in to a classic dish but really it was something sweet instead! The egg was made out of vanilla yoghurt with half a peach acting as the yolk and the chips were fashioned out of sliced apples! Other reddit users couldn't decide whether it was a nicer alternative to the original dish! What do you think!?
4. Easter "treats" Prank!
In 2018, April fools day coincided with Easter Sunday (which doesn't happen again until 2029!). The BBC reported some of the pranks that parents had played on their children. These included disguising fruit and vegetables as chocolate treats - grapes in sweet wrappers and Brussel sprouts covered in chocolate! Another prank included staging an Easter egg hunt... but no eggs were even hidden in the first place! 
5. Reese's Prank!
The chocolate and peanut butter confectionary company took over a New Jersey ShopRite for an 'egg-cellent' prank! They swapped the chicken eggs in the egg cartons to their own peanut butter creme eggs! Compared to the easter "treats" prank this one is more like a treat! 
---