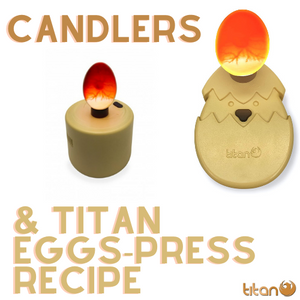 Egg Candlers & Introducing Titan Eggs-press Recipes🥚
Just over 2 weeks until the clocks go back to GMT - put it in your calendars now so you don't miss it - 25th October 2020. 
Egg Candlers 
While we are expanding our flock, we have been using our NEW Titan Ultrabright Egg Candlers (Buy Online: £24.99)  throughout the incubation process. This candler has a new fun shape, with an even higher LUX power than our High Intensity Egg Candlers (Buy Online: £21.99). 
Our Candlers are egg-stremely easy to use - all you need to do is place your egg on the black ring shoulder fitting, press the button and voila. There is also no need to worry about heat damaging the embryo, as our Candlers are made with high-output, high-efficiency cold LED illumination.
Titan Eggs-press Recipes🥚 
During lockdown we experimented with all ends of recipes in order to use the eggs our girls were producing for us, so we thought we would share some of these with you. 
To start off easy, we're introducing our lockdown classic with a twist...
Chocolate and Banana Marble Bread 
Ingredients:
2 large eggs - the fresher the better
140g softened butter, plus some more for lining your tin
140g caster sugar
140g self-raising flour
1 tsp baking powder
1 large, very ripe banana - mashed 
2 tbsp cocoa powder
Method:
1. Preheat your oven to a toasty 180°C / 160°C fan / gas mark 4 
2. Butter a 2lb loaf tin, and line the sides and bottom with parchment paper 
3. Cream all of your butter and sugar together, then slowly add your 2 beaten eggs with some of the flour 
4. Once this has combined, fold in the rest of the flour and add the baking powder
5. Move roughly half of this mixture to another bowl
6. To one half, add your mashed banana, and combine the other half with the cocoa powder
7. The fun part - create your own pattern by pouring each mix alternately into your loaf tin and swirl together with a clean knife
8. Bake for roughly 40 minutes - check it's done by inserting a skewer; it will come out clean if it's ready
9. Leave your creation to cool for 10 minutes before removing to a wire wrack
10. Enjoy, and let us know if you try it 🤞🏻😄
Today's fun fact: Chickens are able to distinguish between over 100 'faces' of their own species.
Date: 10.10.20 - World Mental Health Day 
Stay safe & happy clucking.
Team Titan🐓
---