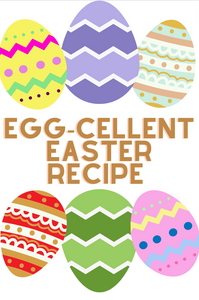 EGGCELLENT EASTER RECIPE
Here at team titan we thought it would egg-sta nice to post a recipe to celebrate egg-cellent Easter! Our recipe will be in keeping with the easter theme and is... Easter traybake!
This recipe is inspired by BBC Goodfood.
INGREDIENTS:
For the cake:
150ml sunflower oil, plus extra for the tin
165g golden caster sugar
2 eggs
150ml milk
165g self-raising flour
3 tbsp cocoa powder
1 tsp bicarbonate of soda
For the icing:
100g milk chocolate
200g butter, softened
400g icing sugar
5 tbsp cocoa powder
2 tbsp milk
For the topping:
100g Chocolate Easter treats! 
Step 1 (baking the tray bake): 
Heat the oven to 180C/160C fan/gas 4.
Oil and line a traybake tin, about 20 x 30cm, and 5cm deep.
Put the oil, sugar, eggs and milk in a bowl and whisk until combined.
Sieve over the flour, cocoa and bicarb, and stir.
Pour the mixture into the tin, and bake for 20-25 mins until the cake is well risen and springs back when pressed.
Leave to cool completely.
Step 2 (making the icing):
Put the chocolate in a heatproof/microwavable bowl and melt in the microwave, stirring every 30 secs. 

Leave the melted chocolate to cool for 5 mins.

Mash the butter and icing sugar together.

Sift in the cocoa and pour in the melted chocolate, a pinch of salt and the milk

Mix again until smooth.

Spread over traybake.

Step 3 (decorating!):
Scatter the cake with easter treats!
Step 4:
EAT!
---