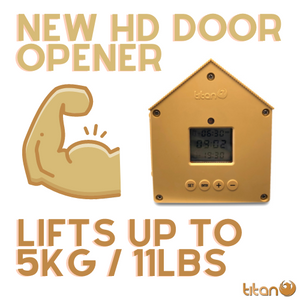 Introducing our New BIGGER and STRONGER HD HeavyDuty Chicken Coop Door Opener💪🐓
NEW HD HeavyDuty Chicken Coop Door Opener 💪
We are incredibly excited to introduce our strongest chicken coop door opener yet: the HD HeavyDuty Chicken Coop Door Opener with Light Sensor and Timer - a GOLIATH of chicken coop door openers (Buy online: £99.99).
Same Elite shape; bigger, bolder, stronger 🤯

Lifts chicken coop doors up to 5KG / 11LBS💪

Option to edit LUX Light Sensitivity settings to suit your flock🐥

8 x AA Batteries INCLUDED 👍
Launching just in time for Christmas, this door opener would make the perfect gift for anyone who owns chickens and would love a lie in or early night from time to time, or maybe as a gift for yourself in hopeful preparation for a Summer holiday in the coming year.
Making some changes this Winter...
We, like all other poultry owners in the UK, are having to make some changes to the way our chickens are going to live for the foreseeable future. Following the identification of cases of avian influenza (bird flu) both in captivity and in the wild. 
From the 14th of December, it is a legal requirement that poultry and other captive birds in England, Scotland and Wales are kept indoors in order to limit the potential spread of the disease. 
While this doesn't mean we now have to socially distance from our chickens like we do other people at the minute, it is recommended that we increase biosecurity measures in these areas by disinfecting clothing and footwear and minimising movement in and out of housing areas, for example.
More complete information and guidance can be found on the Government website here: https://www.gov.uk/government/news/avian-influenza-bird-flu-national-prevention-zone-declared. 
We recently had a delivery of 60m³ of chicken bedding to try to keep some of our runs drier over this Winter period, making the areas nicer to return to when our flock is hopefully allowed to be back out and about in the New Year.
Delivery for Christmas is possible if you order on or before the 23rd of December, but we cannot guarantee this.
We recommend ordering as soon as possible for the best chance of your parcel arriving before Christmas 🎄
Please note that our main office will be closing for Christmas from the 23rd December - 4th January. During this time our phone lines will be closed, but we will endeavour to keep fulfilling your orders and responding to emails where possible. 
Today's fun fact: Chickens have binocular vision - they can look at two different things at the same time.
Date: 10.12.20 - Human Rights Day 
Stay safe & happy clucking.
Team Titan🐓
---