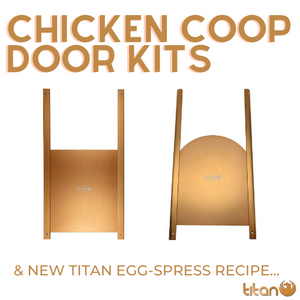 Titan Metal Doors & Egg-spress Recipe #2 🥚🍪
Titan Metal Chicken Coop Door Kits
As we're back in lockdown and it's a lot less sunny than the last, we're imagining that most of you - like us - will be turning to more indoor-oriented activities to keep you busy this time and you'll probably be even less likely to want to go outside in the cold or the rain to open and close your chicken coop doors. 
So with that in mind, we wanted to show you our Metal Chicken Coop Doors, which are ideal for use with our automatic chicken coop door openers. 
Metal doors are far superior to wooden doors when it comes to chicken coops. 
Metal doors won't expand or warp in the changing weather conditions that occur during the winter
Metal doors are much less likely to get stuck in its rails than wooden doors
Metal doors slide much more smoothly in its rails from day one, preventing the risk of any extra strain being put on the chicken coop door opener motor
We sell two variations of our doors; Standard (Below; Buy online: £29.99) and Curved (Above; Buy Online: £28.99), both making an attractive addition to chicken coops. 
Titan Egg-spress Recipe #2: Triple Chocolate Cookies🍪
Lockdown #2 has meant more baking for Team Titan, so we thought we would share another chocolatey creation with you...
Ingredients:
1 medium egg - the fresher the better
150g chunks of dark chocolate
150g chunks of milk chocolate
150g chunks of white chocolate
100g light brown sugar
75g caster sugar
175g plain flour
2 tbsp cocoa powder
1 tsp vanilla extract
1 tsp baking powder
Method:
1. Preheat your oven to a toasty 180°C / 160°C fan / gas mark 4 
2. Line two baking trays with greaseproof paper / similar 
3. Melt the dark chocolate in a heatproof bowel over a pan of simmering water then place to the side to cool slightly
4. Whisk together the butter, brown sugar, caster and vanilla extract, then mix in the egg and melted dark chocolate
5. Sift in the flour, cocoa powder and baking powder
6. Add in the milk and white chocolate chunks - as big or small as you want them (feel free to add extra if you feel like it, we won't tell)
7. Use a standard ice cream scoop to dish out rounds onto your baking trays - we got 15 blobs from this amount of dough
8. Bake for around 12 minutes - they will harden slightly once removed from the oven so don't panic if they seem soft
9. Enjoy and let us know if you try it😄🤞🏻
Today's fun fact: The fear of chickens is known as Alektorophobia
Date: 23.11.20 - One more week of Movember 👨‍🦳
Stay safe & happy clucking.
Team Titan🐓
---