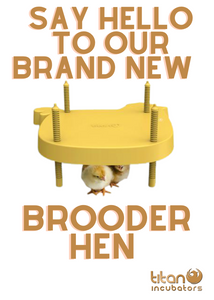 Say hello to our new HEN BROODER design!
🐓 Say hello to our NEW MOTHER HEN BROODER!! 🐓
We are incredibly excited to welcome our largest hen brooder to our collection: the MOTHER HEN BROODER  - A funky, fun and fresh new design of our chick warming plate (Available to buy online at £34.99).
LARGE chicken shape; which allows for lots of chicks to snuggle under! 🤯

SUPER EASY and quick to assemble! 

NEW FUN DESIGN - perfect for chicken enthusiasts! 🐥

EASILY adjustable legs so that the brooder hen can grow with your chicks! 👍

HUGE SAVINGS with our low wattage bulbs! 
This funky brooder hen would make the perfect gift for anyone who currently owns chicks, or is planning to start a new adventure looking after chicks! Great time to buy in preparation for the coming chick season!
Today's fun fact: Chickens have great memories and can recognise up to 100 faces (even other pets!)
Stay safe & happy clucking.
Team Titan🐓
---