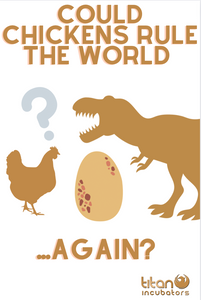 WILL CHICKENS EVER RULE THE WORLD AGAIN (...sort of)?
If you asked the general public which animal is more closely related to the magnificient T-Rex, the crocodile or the chicken? 9 times out of 10, they would answer: 'the crocodile of course'. However, our reptile friend is in fact NOT the closest relation (in evolutionary terms) to the T-rex - it is probably consider more like a distant cousin! It boils down to the amino-acid sequence (proteins) from T-Rex collagen being more similar to a chicken's than any other creature currently alive! 
Ok... so a chicken isn't quite a dinosaur like the ones in Jurassic Park. Instead, they are a different group of animals which emerged from the smaller dinosaurs that survived the asteroid hitting the earth all those years ago. However, this does not take away from the fact they are descendent from dinosaurs (as well as other type of birds such as turkeys)! They have similarities in their bone structure (as well as having wishbones), feet, feathers, eggs, and the previously mentioned collagen! 
In true Jurassic Park style, could changing a chickens genes turn it back into a dinosaur where they could rule the world again?
Believe it or not, an experiment tried (sort of) to do this. Bhart-Anjan Bhullar (a then PH.D student) at a Harvard lab took an embryonic chicken and altered some of its genes to resemble something similar to what dinosaurs would have had. This produced some pretty amazing results! 
"THOSE CHICKENS THAT WERE ALTERED IN THAT WAY, THEY GREW UP TO HAVE A SNOUT THAT LOOKED LIKE A DINOSAUR SNOUT"
For ethical reasons, Bhullar's project of a beakless chicken was only allowed to develop to the point necessary to verify the hypothesis. So for now, we are safe from dinosaurs ruling the earth. But the way that science is going - it is very possible in the next few decades we could attempt to bring back dinosaurs! These dinosaurs would not be 'made from scratch' but using chickens and altering their genome - finding out which genes to 'turn on' or 'turn off' such as turning off the gene that causes chickens to have beaks. Or, as palaeontologist Jack Horner has done, create a chicken with teeth! 
Source: https://www.inverse.com/article/24268-dinosaur-chicken-gene-editing
---